31 Jan

Study Trip to Pietrasanta 2018
In the fall of 2018, I went on a study trip to Pietrasanta to artist Eli Benveniste, whom I knew from earlier workshops on Bornholm. I had also been to Pietrasanta the year before, in June 2017, when Eli's husband, Jørgen Haugen Sørensen, presented the captivating sculpture 'The Crowd / La Folla' as part of his summer exhibition of the same title, covering his work throughout the years in Pietrasanta.
I knew this study trip would be extraordinary. Being able to work in Eli's own studio, in the backyard of Pietrasanta, was in itself special. But most importantly, because Eli with her great expertise, humour and enthusiasm has a way of bringing out new creative sides of her students. She has said herself: 'The magic happens between the hands and the materials', and magic really did happen here.
Pietrasanta exudes a creative atmosphere from centuries as the hub for artists and craftsmen who came here for the local Carrara marble. The city's Museo dei Bozzetti is a testament to this, showing works (maquettes) by renowned artists such as Henry Moore, Isamu Noguchi, Mitoraj and Søren Georg Jensen and the like. Here I am in Christian Lange's marble workshop, getting acquainted with history and trying to sculpt in marble myself.
When in Pietrasanta it is obviously mandatory to go see the famous Carrara marble quarry where big blocks of marble have been cut out since Roman times.
You feel very small and humble standing in the middle of the massive marble quarry, where marble from these exact mountains have been carved into some of the world's finest masterpieces. As well as many kitchen worktops.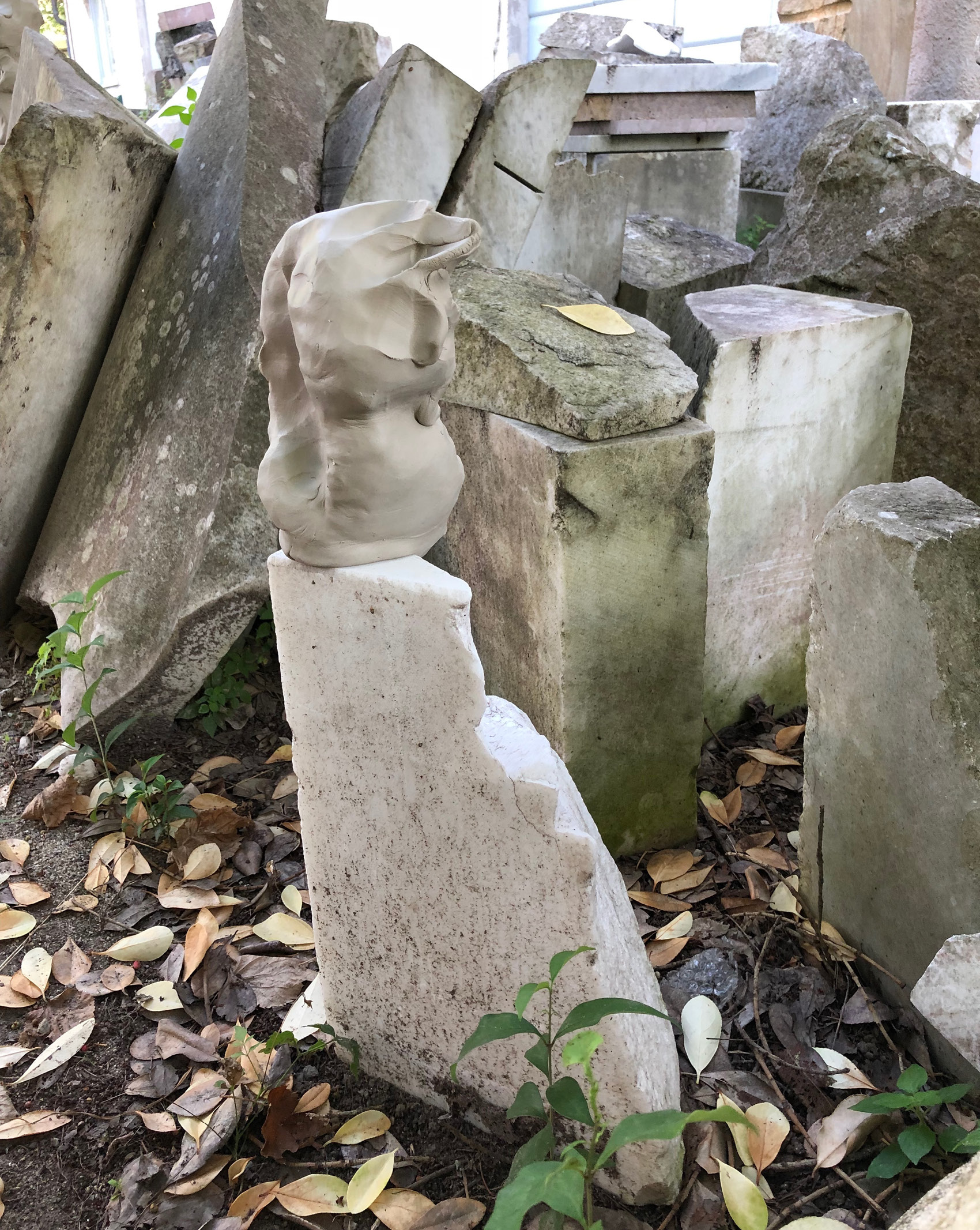 Back at Eli's studio and now it's all about clay. Soft and so much easier to work with than marble. At least to me.
The first piece I did at Elis studio was a relief of an emerging face. I have worked most of my life with classical drawing and shaping anatomically correct, so I often start out shaping something naturalistic. It's a kind of warming up the skills with familiar shapes to prepare for learning something new.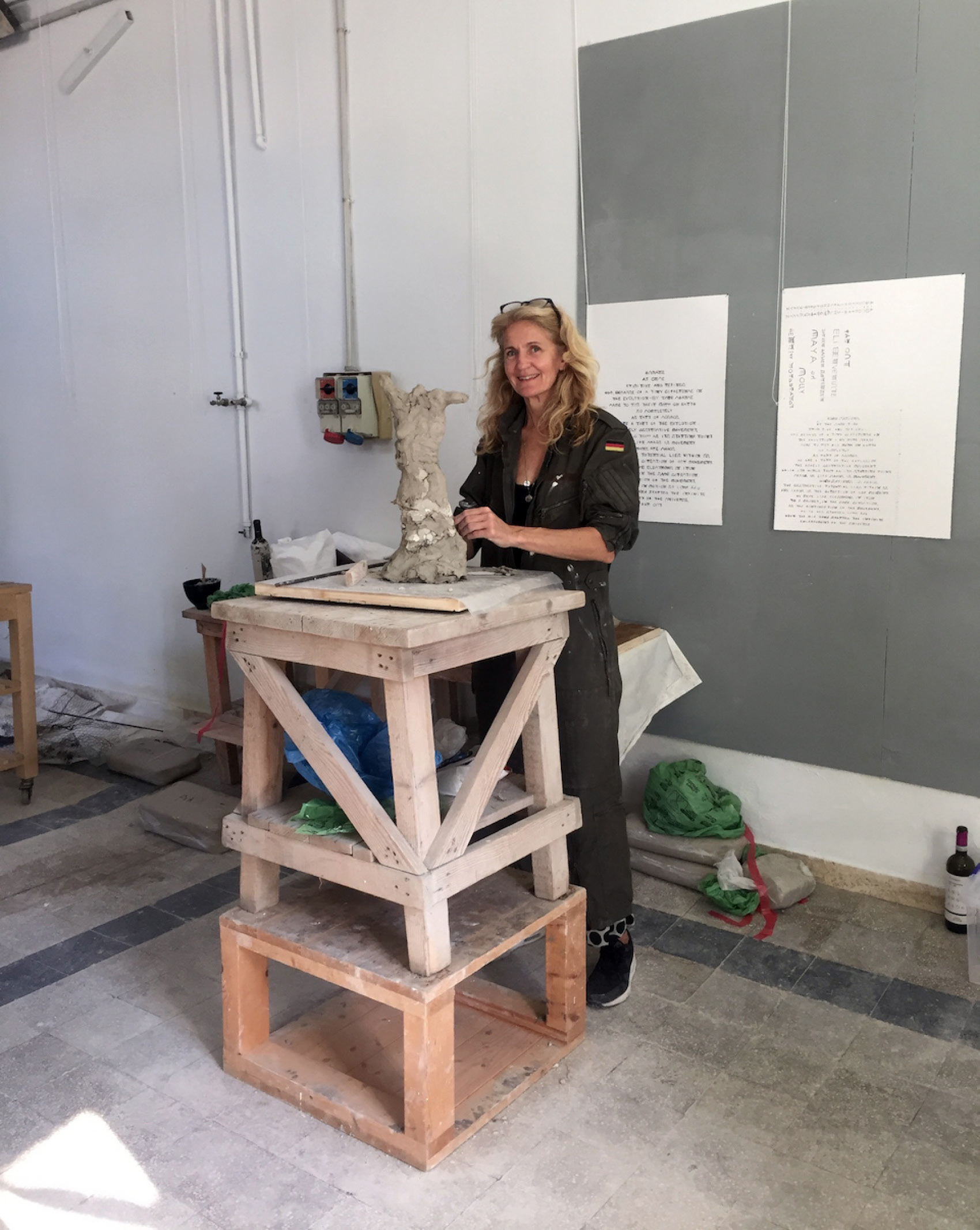 One of the most rewarding things about Eli's teaching is her kind nudging to have us rethink our normal ways of sculpting. The result was a sculpture, where I had let go of my usual anatomical correctness. Instead I went with a feeling and tried to shape what that looked and felt like. A feeling of going (even dancing) with the flow and enjoying the freedom of imperfect perfection.
Part of the workshop was also about how to transform our sculptures in clay into works cast in bronze. We were very fortunate to have Benjo, Jørgen's assistant, show us how to make a silicone mould and take us through all the steps of making a bronze sculpture, from its state in clay, into wax until finally cast in bronze. Here I have applied the first layer of silicone to make a mould of my sculpture.
After the workshop, I handed over my new favourite sculpture for Benjo, the expert in mouldmaking, who finalised the silicone process for me. Here the final mould is ready for the traditional cire perdue (lost wax) bronze casting method at the Fonderia Artistica L'Arte.
Piles of bronze outside a local foundry, ready to be turned into wonderful works of art.
The finished sculpture cast in bronze, here with Antique Green patina. Made as a limited edition of six numbered sculptures with six different patinas. I named the sculpture 'Essence of a woman'. To me, she symbolizes all of a woman's soulful nuances. Strong and vulnerable. Hard and soft. Rational and emotional. Masculine and feminine. A woman, who is not defined by her chest, neck, shoulders, buttocks or thighs. A free spirit, dancing and flowing away, like the wind and the sea.
She is 'the soul that lives within', as India Arie so beautifully sings:
I am not my hair
I am not this skin
I am not your expectations, no
I am not my hair
I am not this skin
I am the soul that lives within
India Arie, 'I am not my hair', 2006